MONTREUX JAZZ HERITAGE LAB
INTERACTIVE APPLICATIONS

INTERACTION DESIGN VISUAL DESIGN RESEARCH
This was a research project linked to the aesthetics, experience and emotion of visual space. It was completed within the context of an immersive experience which allows people to relive the rich archives of the montreux jazz festival. The result is a completely unique installation that was custom-made to achieve the goals of the project. The starting point for the project came from the idea to combine of two different visual elements: A low-resolution led transparent barco mitrix combined with transparent mirrors positioned in front.
The installation unites three elements: Installation interactive light Images of the historical archive Information and data linked to the concert The installation is the result of visual research based on the unique structure And on possible interactive visual solutions specifically linked to that structure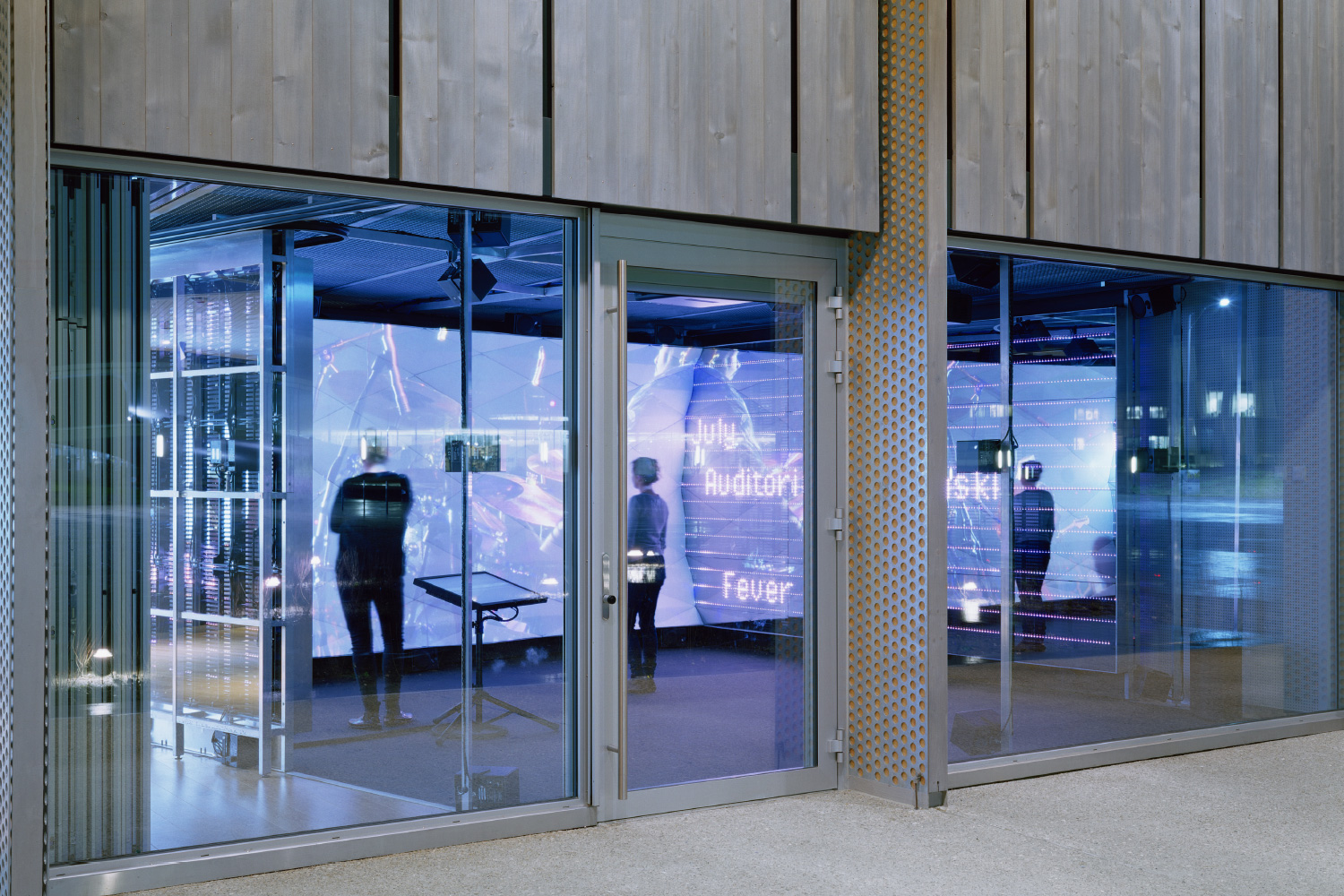 The hardware is a Barco MITRIX, a low-resolution LED wall that creates a grid of 82 x 126 luminous pixels. The installation uses transparent LEDs that allow the light to filter out and create an interaction between the internal space of the installation and the space outside it. The unique aesthetic of this LED matrix leads to a very specific graphic language, and so we invested time to investigate the types of content which could work. The guidelines produced by our visual research suggested to use:
.LEDs as an abstract light source to create emotion, dynamism and empathy with the space
.LEDs as a station to present the meta data available for each concert – the reflection of the image on the front wall to show the content of the images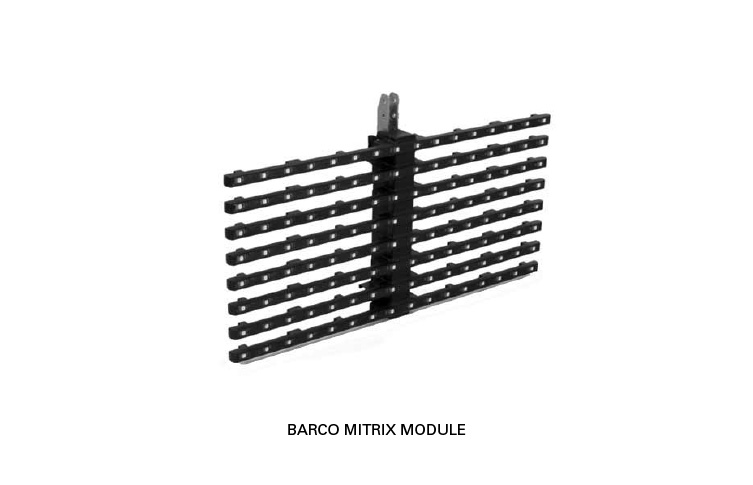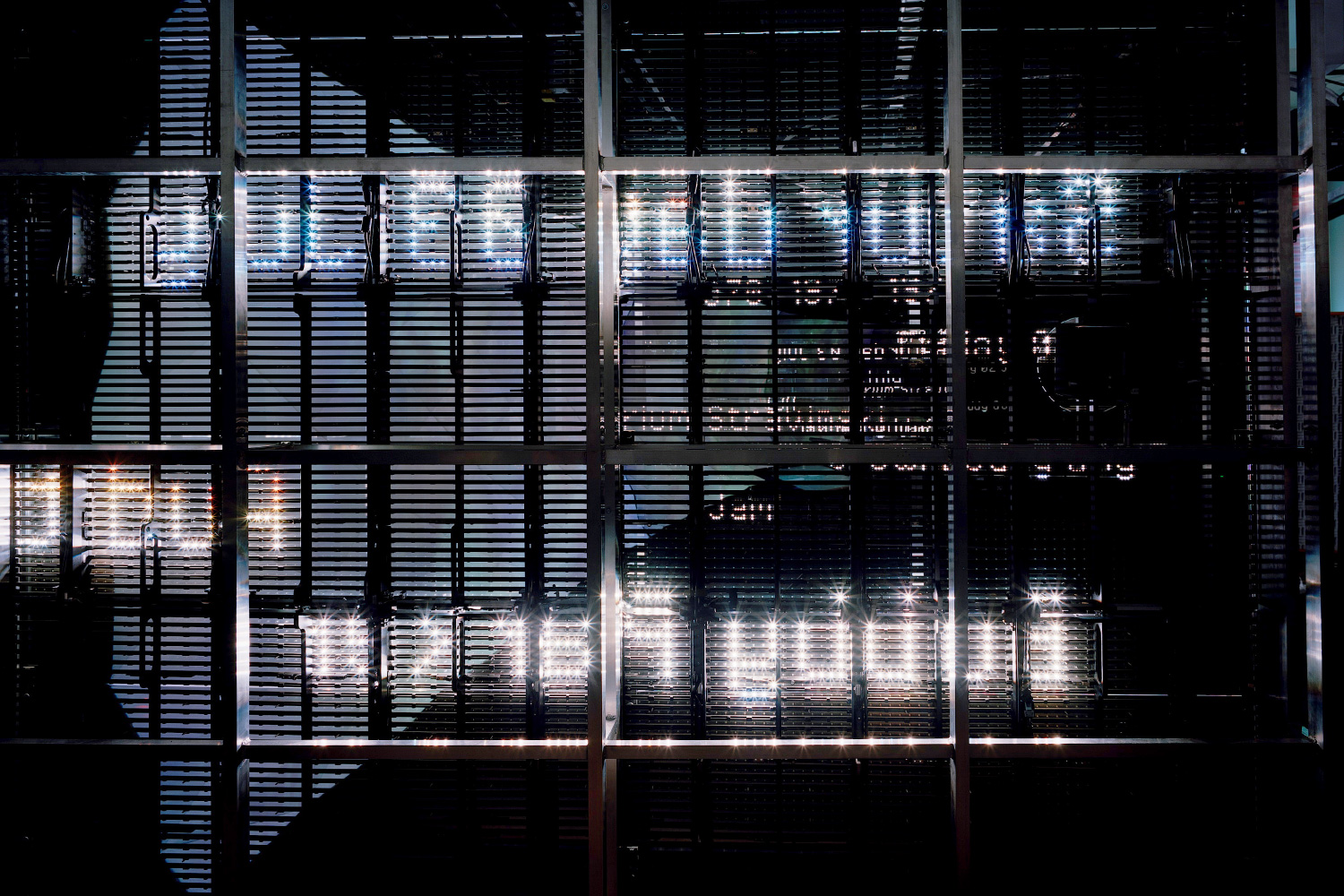 A second analog interactive aspect is linked to the use of reflection levels within the space. By inclining the mirrors slightly, we ensured that the reflection was not infinite. This reflection creates a portion of the sphere that allows us to have two levels of reflection and an expansion of space. We selected the transparent mirror in order to get the right balance between the reflection of the image and the transparency that allows the light to filter.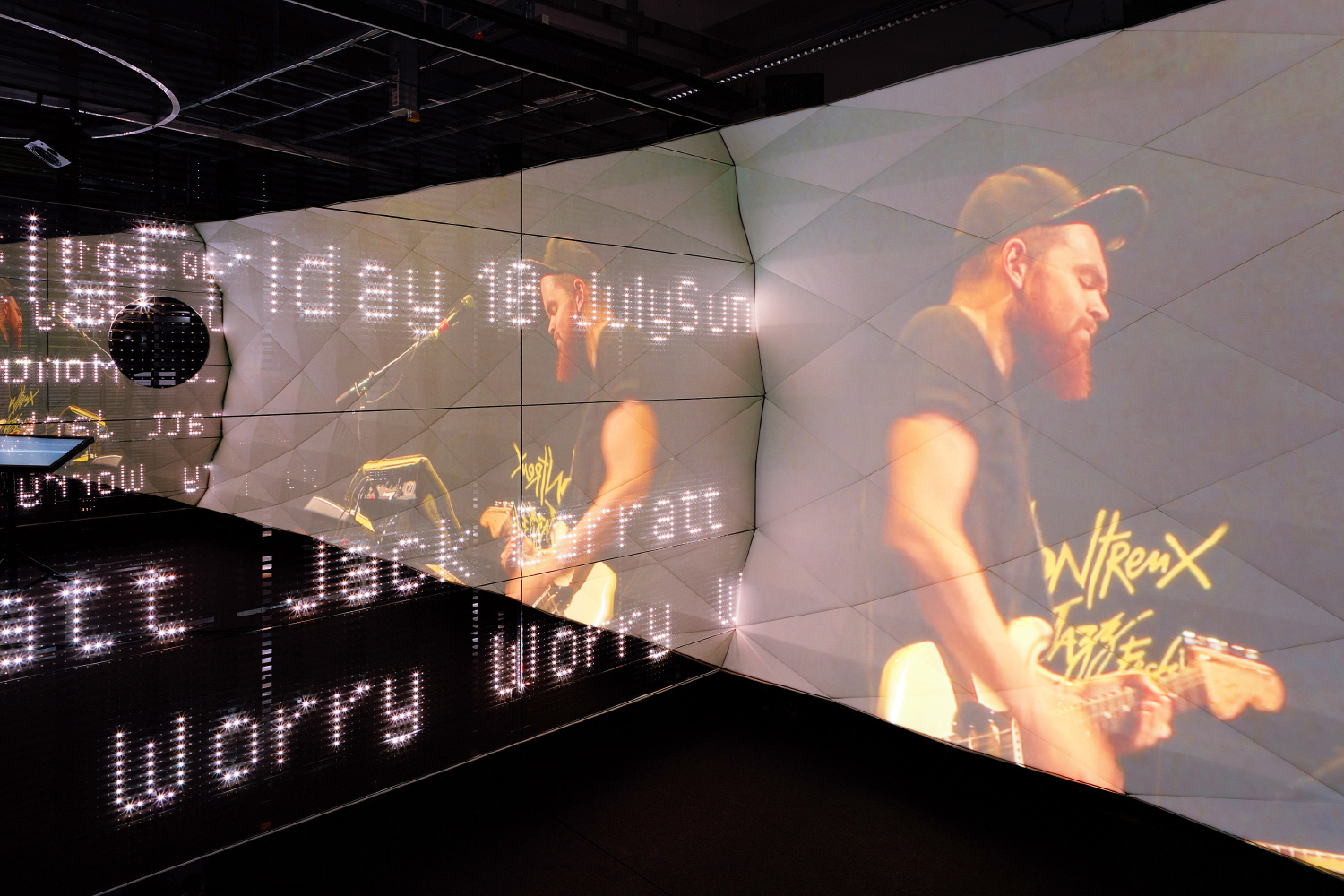 The reflection of the content in the mirrors produces an interesting interaction. The installation space is 7 meters wide, and as we have 3 levels of reflection, the content can be perceived to be up to 21 meters away. This allows us to use low resolution LED walls across multiple levels for different purposes; from information to ambient light.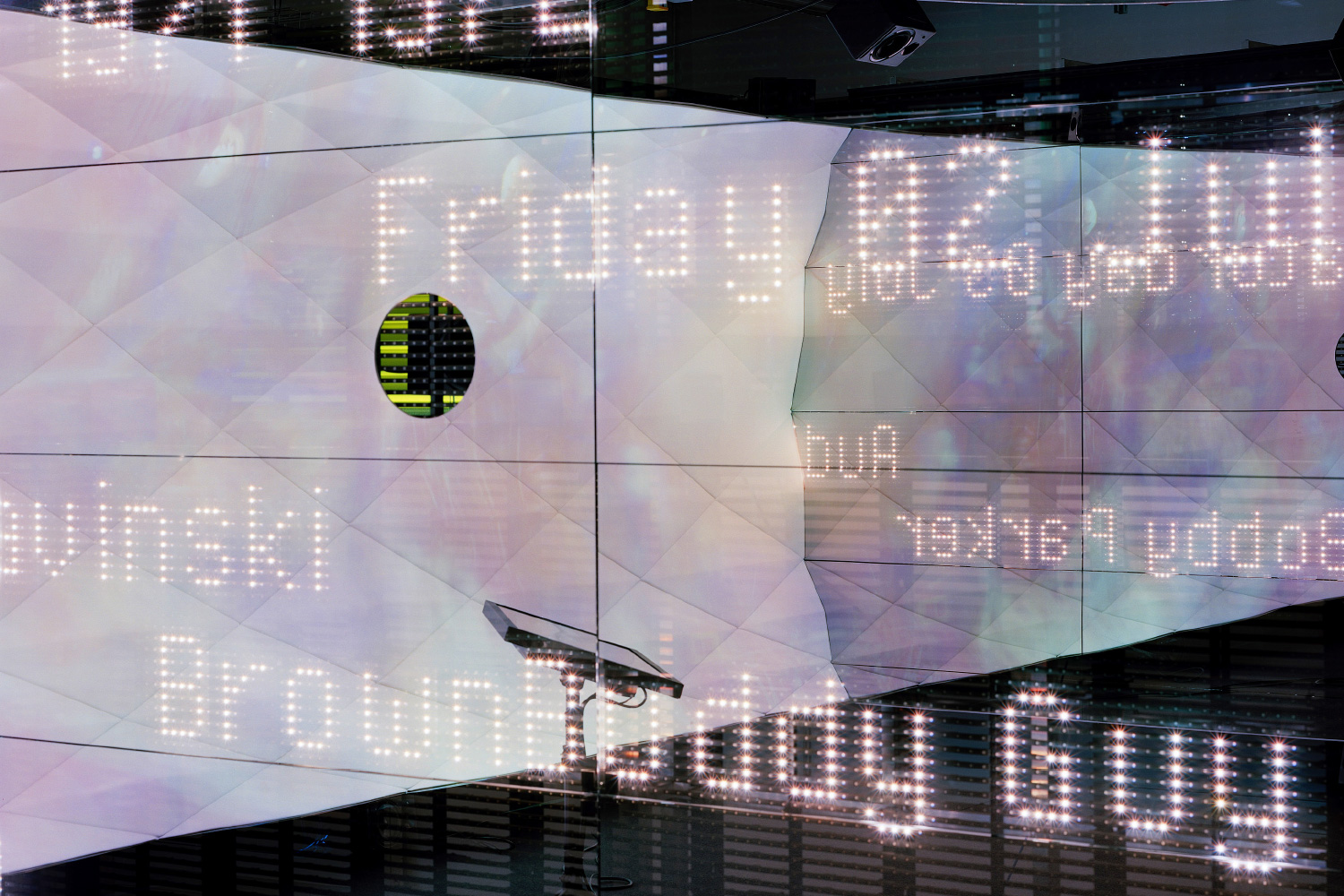 The user experience transforms in space during the viewing of the concert, with different layers of information, media and light produced by the mirrors, LEDs and projections. At key moments in the flow of the concert, the LEDs light up with colors, temporarily reducing the reflection. In this way, we move from a spatial, immersive experience to a dynamic and emotional experience with the evolution of the song.
I defined a creative direction that uses LEDs with a structure of light instead of projections. In this way, the content creates its own visual structure that will stand the test of time. The unique aesthetic of the LEDs with the interactivity of an installation of light creates an emotional dimension and keeps the experience interesting and modern.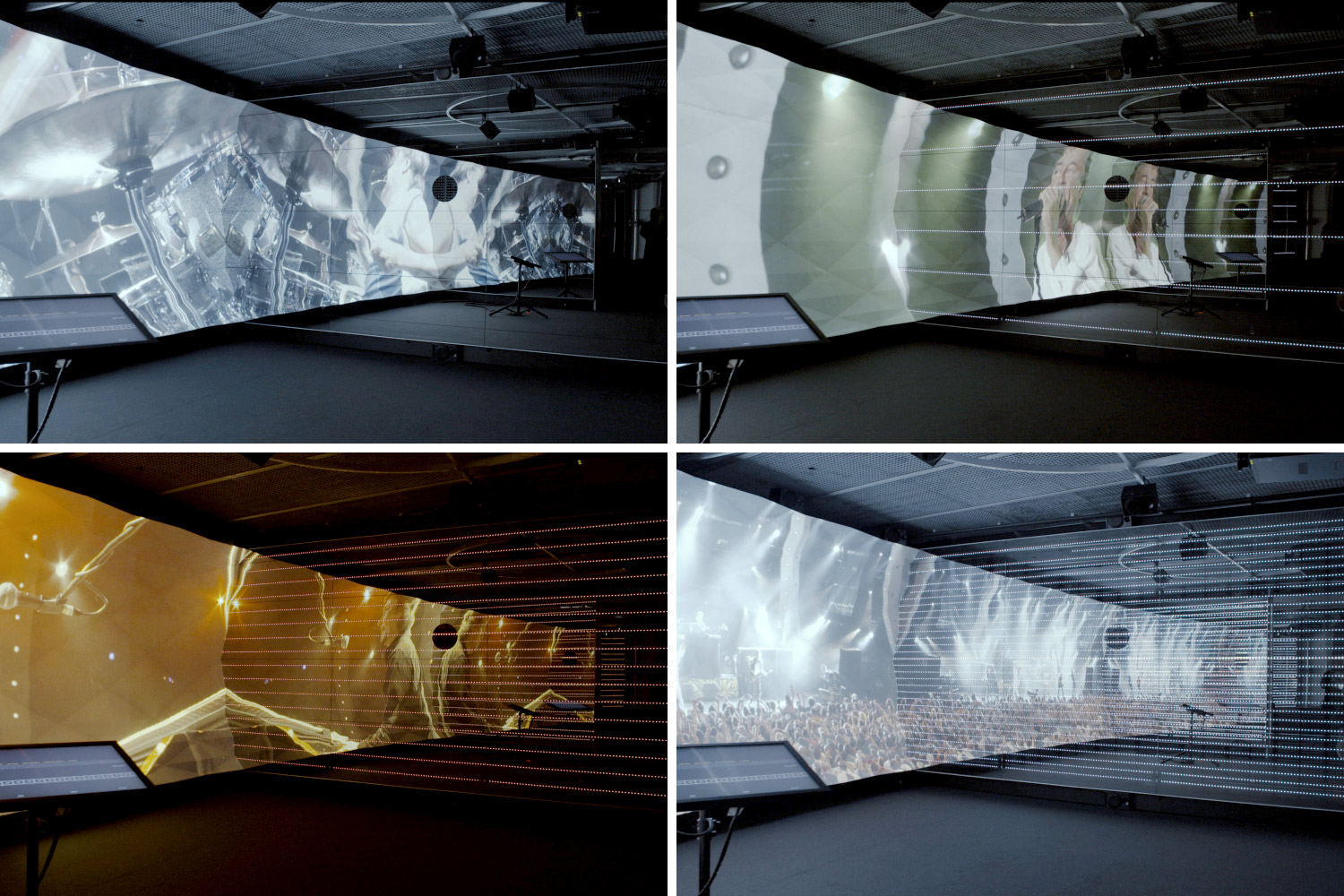 An evolution of the perception of space
All information regarding the concerts has been archived and can be shared on the LED wall several times during the song. It is important that the users know the context of the content, and this historical aspect is the most important thing of the Montreux Jazz Festival and so presenting the meta data does just that.

THE INFORMATION SCREEN APPLICATION
A digital workstation was developed outside the MJHL experience in the adjoining café space. This consisted of a 55-inch vertical monitor which showed the title of the concert playing as well as the upcoming playlist. The installation is interactive: when a song changes, an animation gives a tutorial on how to use the internal concert selection interface.

Work developed at EPFL+ECAL Lab
:

Concept and interaction design

Tommaso Colombo

|

Engineerig

Burmester Berlin for Coolux software |

Lead Engineer Delphine Ribes | Engineer Yves Kalberer
Pictures :
© EPFL+ECAL Lab, Joel Tettamanti