DIGITAL PROJECTS IN MUSEUMS
RESEARCH
This research was carried out as part of a commission by Artlab at the École Polytechnique Fédérale de Lausanne. They launched the Art is More (AIM) research project in order to develop a digital installation to introduce artists to visitors at their exhibits. The research was divided into three complementary paths. The first involved visiting and reviewing existing digital installations in museums around Europe. For the second path, we organized discussions with curators and project managers of digital projects in Europe in order to compare their theoretical and practical approaches. In the third path we gathered insights from discussions with professional designers who work with digital installations in public spaces.

Below is a table summarizing our approach.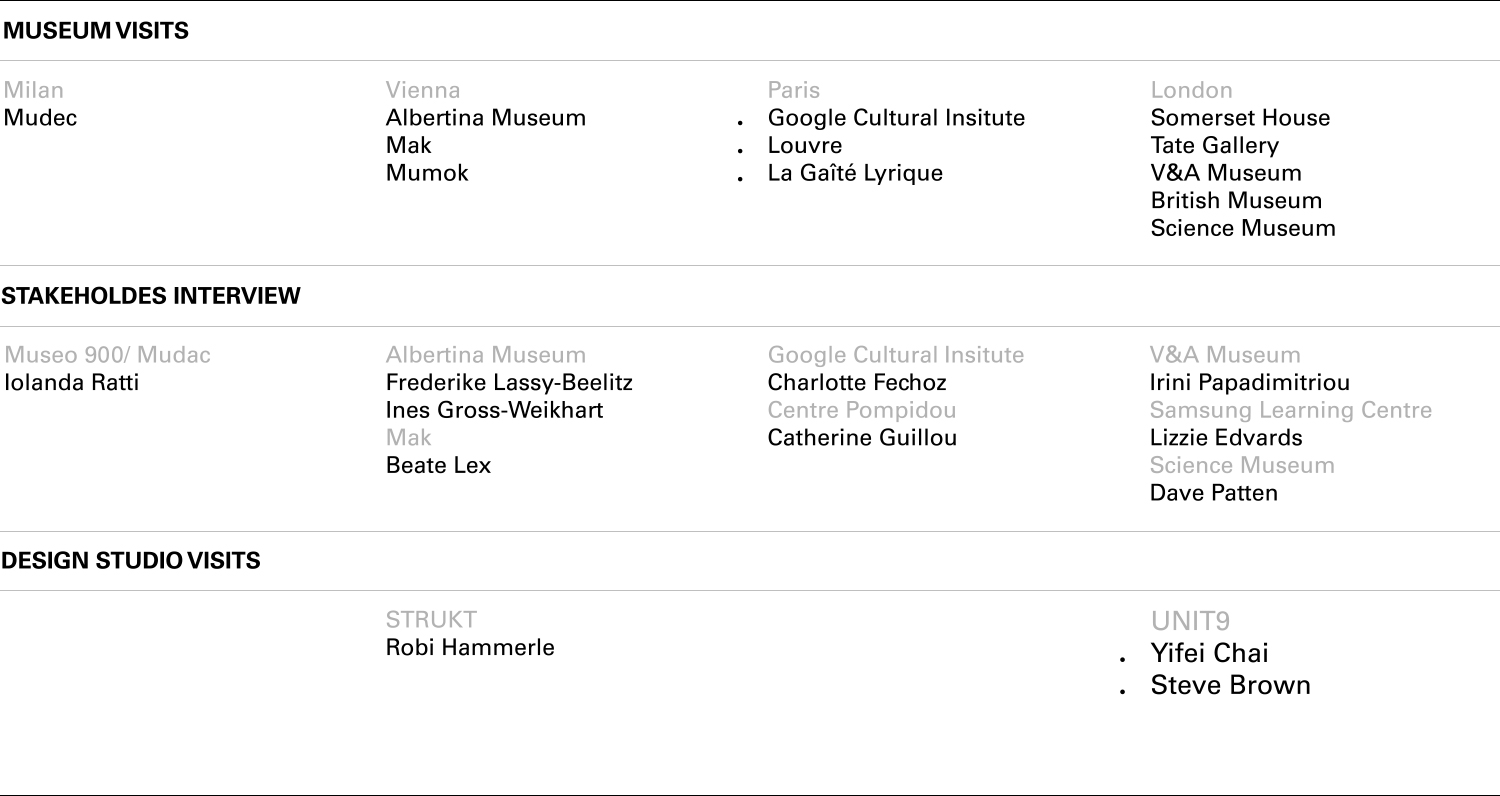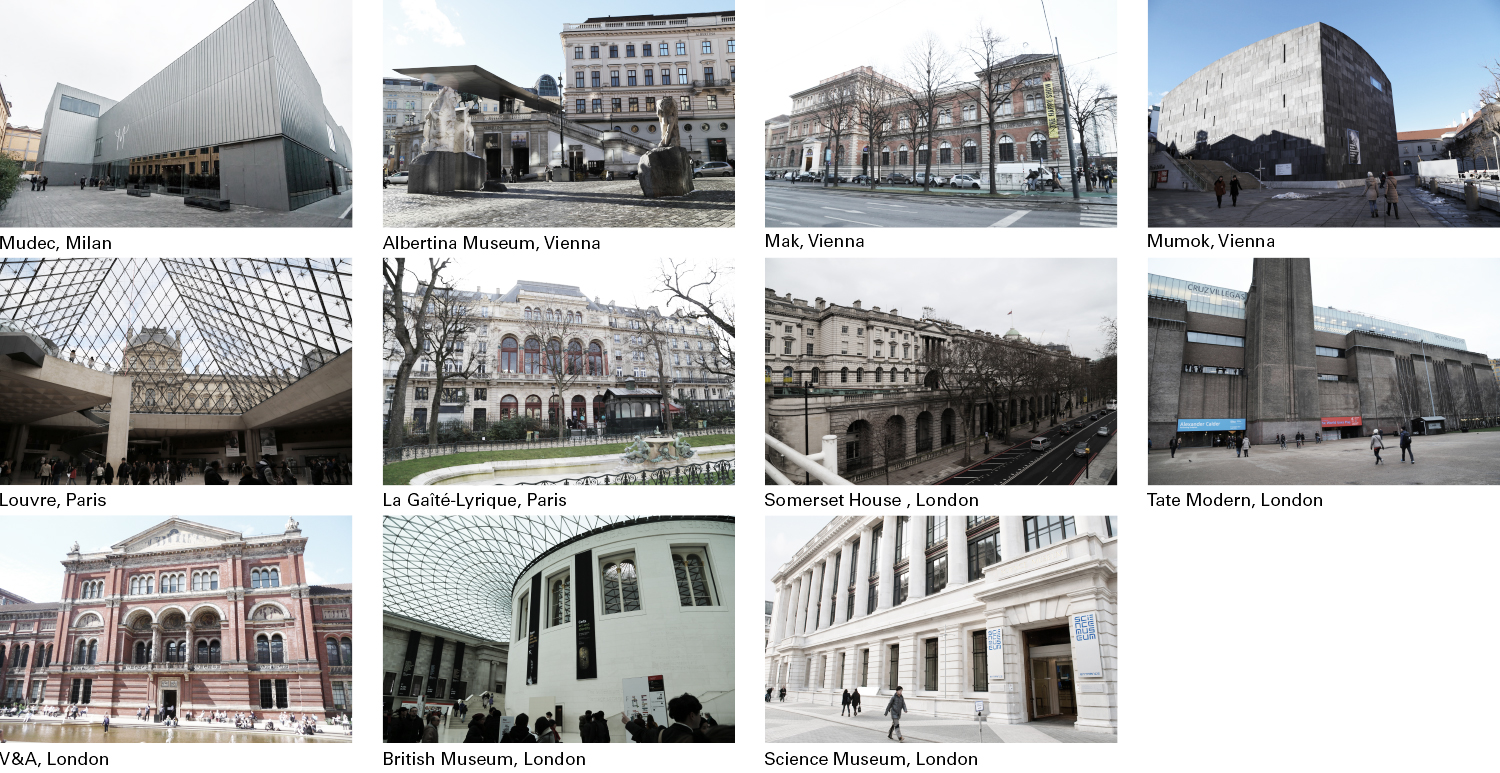 We documented and classified the digital material that we observed in order to get an overview of the existing options. We also correlated the type of content used for the different devices. All images are personal, for information only, and have no commercial purpose.

Mainly used for audio guides or interactive guides inside the rooms of the museum. Some devices have GPS for the automatic recognition and activation of content at specific points.

Mainly used to consult information about installations or real works exposed nearby They are also used to present the temporal, social or geographical context of the work.

Particularly used in the introduction of exhibitions or at specific times for spectacular and emotional displays of films, contextualisation or other information related to the works.

LARGE SCREEN INSTALLATION
Used for the explanation of a whole project with complex structures or to show content on a large scales.

Combinations of monitors and/or projections not for purely informative purposes but as part of an interactive / artistic project where there is a need to have integrated displays

During the documentation phase, we tested different projects and installations and video-recorded the reactions of visitors. Analysis of our footage allowed us to systematically list the fundamental points regarding learning. The insights we gained were extremely useful for the development of our own project.

Interactions must be very simple and clear. Public space interaction language Sometimes digital information systems do not work because they are not really intuitive: People have to spend more time and do more actions than simply reading a label It is very useful to indicate the time an installation is taking Feedback

Obsolete digital devices such as old smart phones, tablets, multitouch have little appeal for visitors, and can decrease the perception of the content.

No project implementation. Low budget Content can be slow to load Audio description of the art pieces are sometimes too long iPads are heavy to carry for a long time Museum "big investment" on tour guides and learning workshops with schools

Itinerary : When digital installations are located inside the exhibition's dedicated space, it helps them to be seen and used by visitors. There is a clear hierarchy of spaces and information. Sometimes digital information systems do not work because they are not intuitive; people have to spend more time and do more actions than simply reading a label.

Human being the protagonist mechanism Feedback It's important to create a specific target group with a specific scope. Generic projects do not work Ludic approaches have more impact Target group to the art / culture

Storytelling application of physical object work really fine as augmented reality or information extension.

In order to create a lasting record of our observations in museums, I produced a 130-page brochure, documenting our work and summarizing our analyses.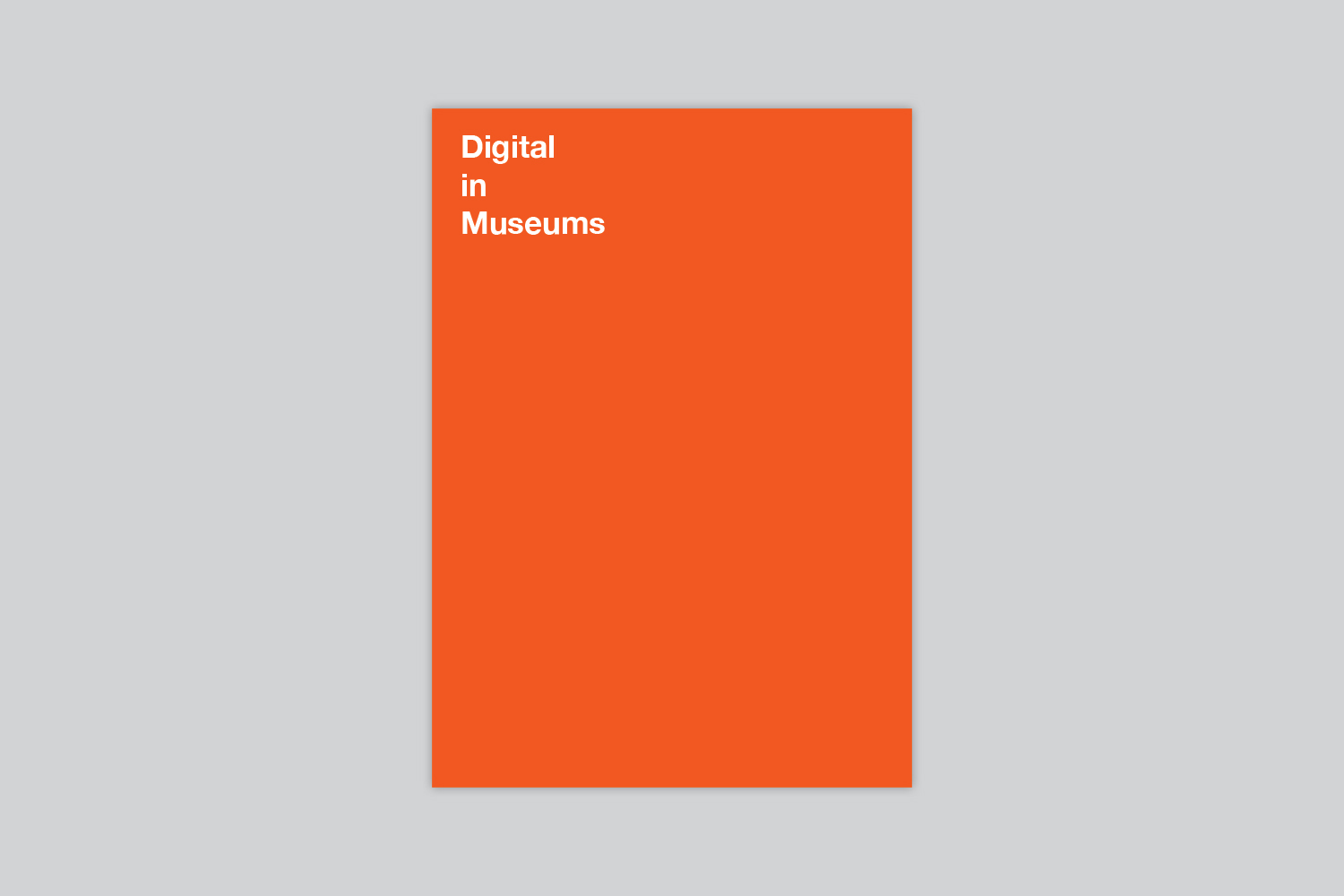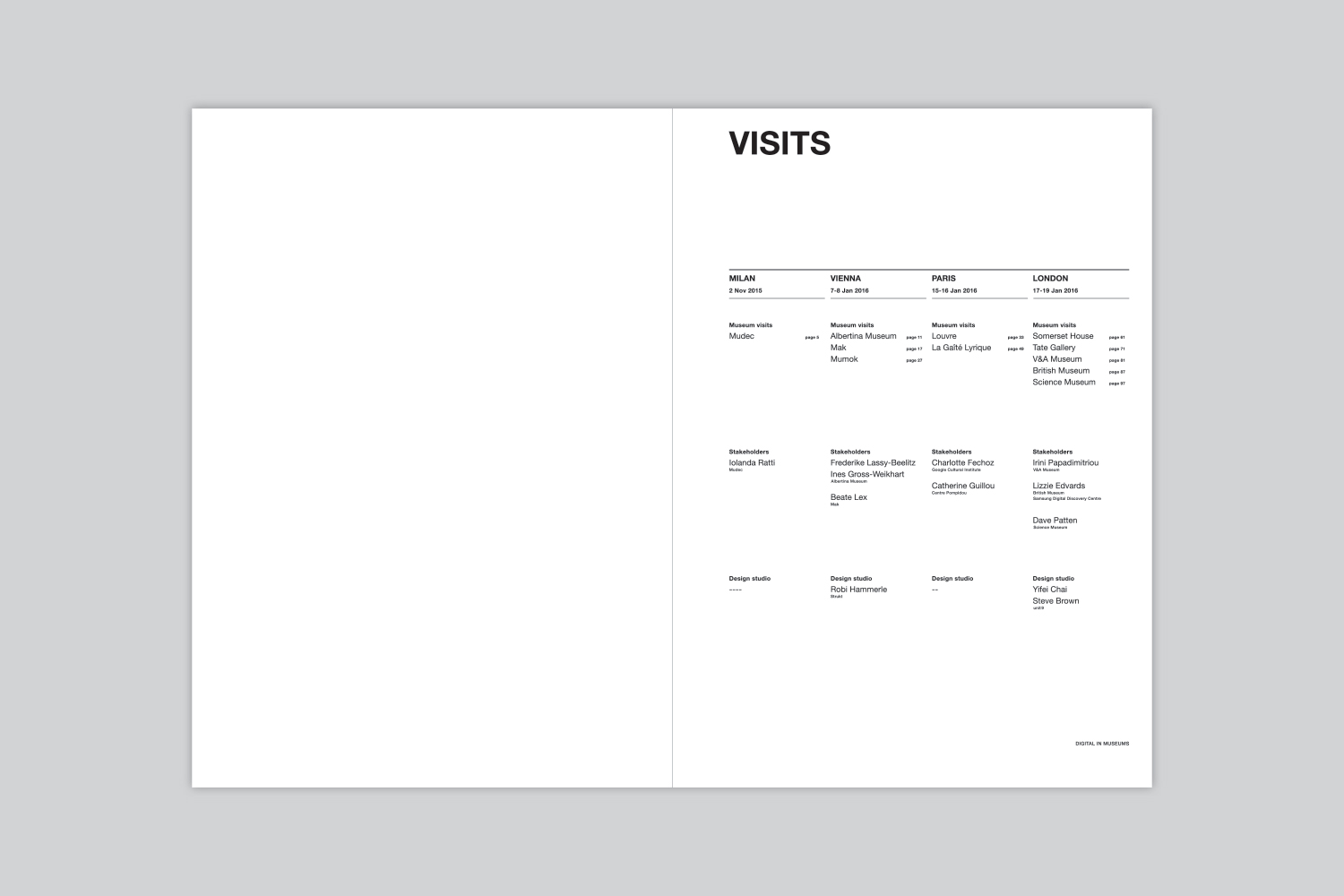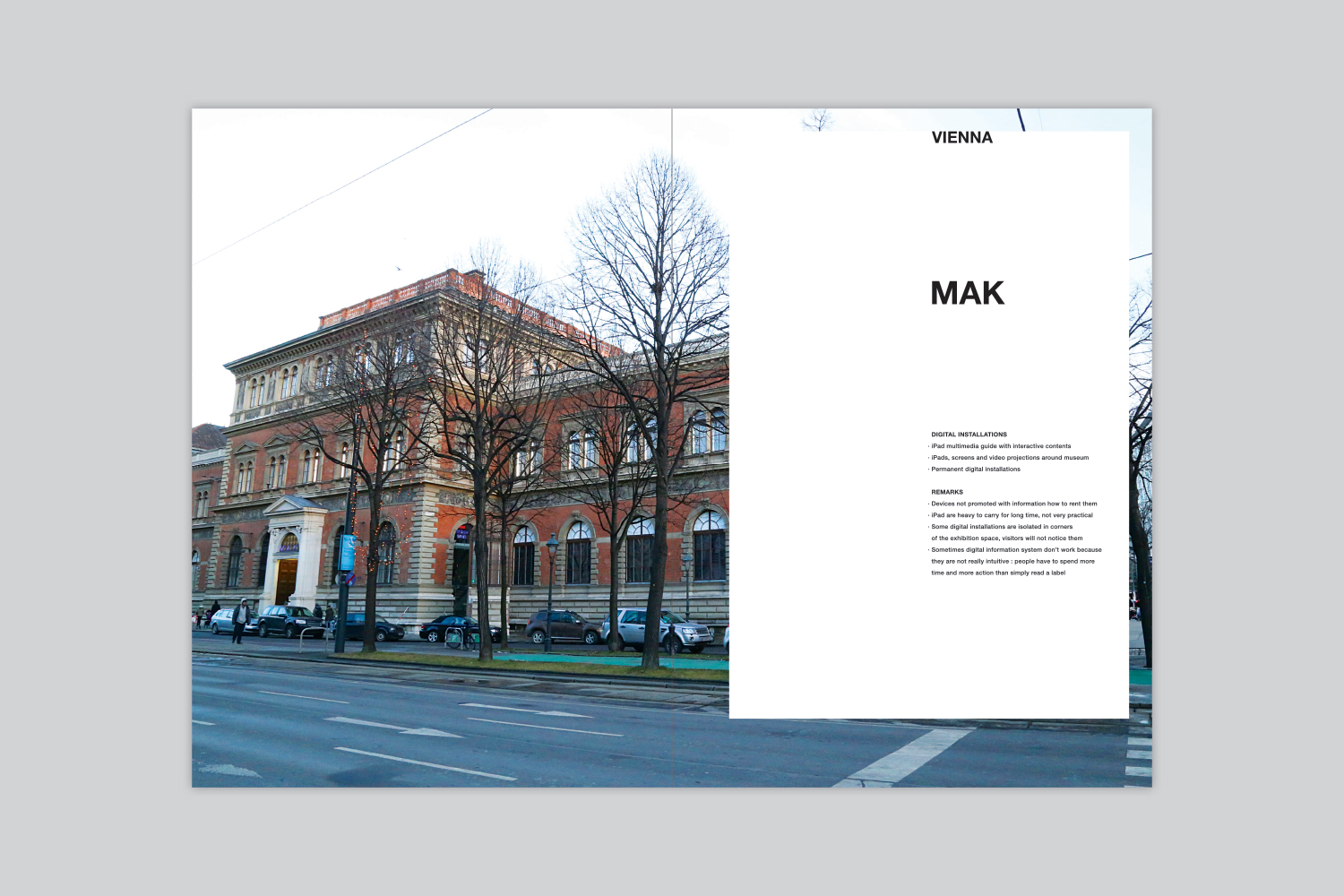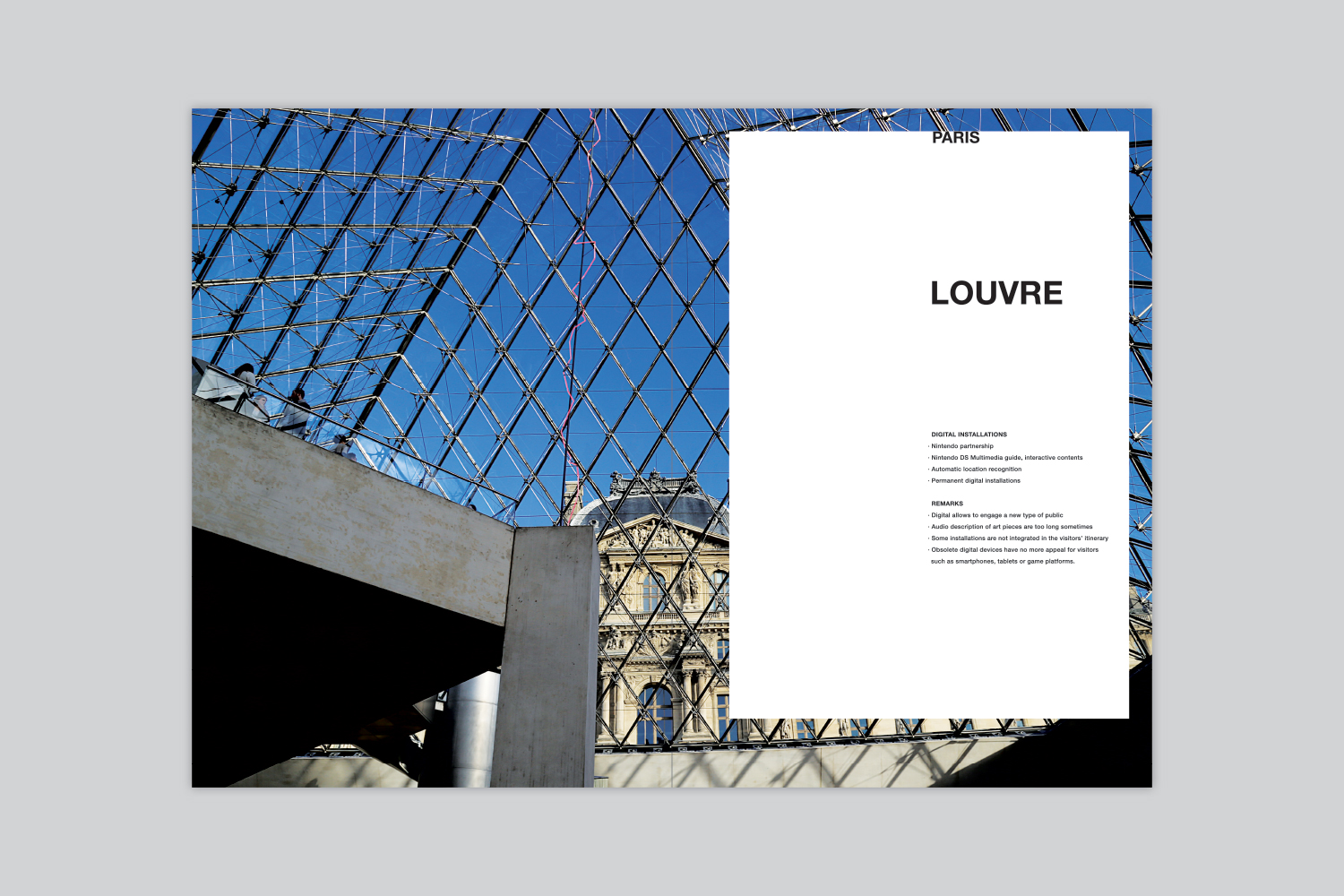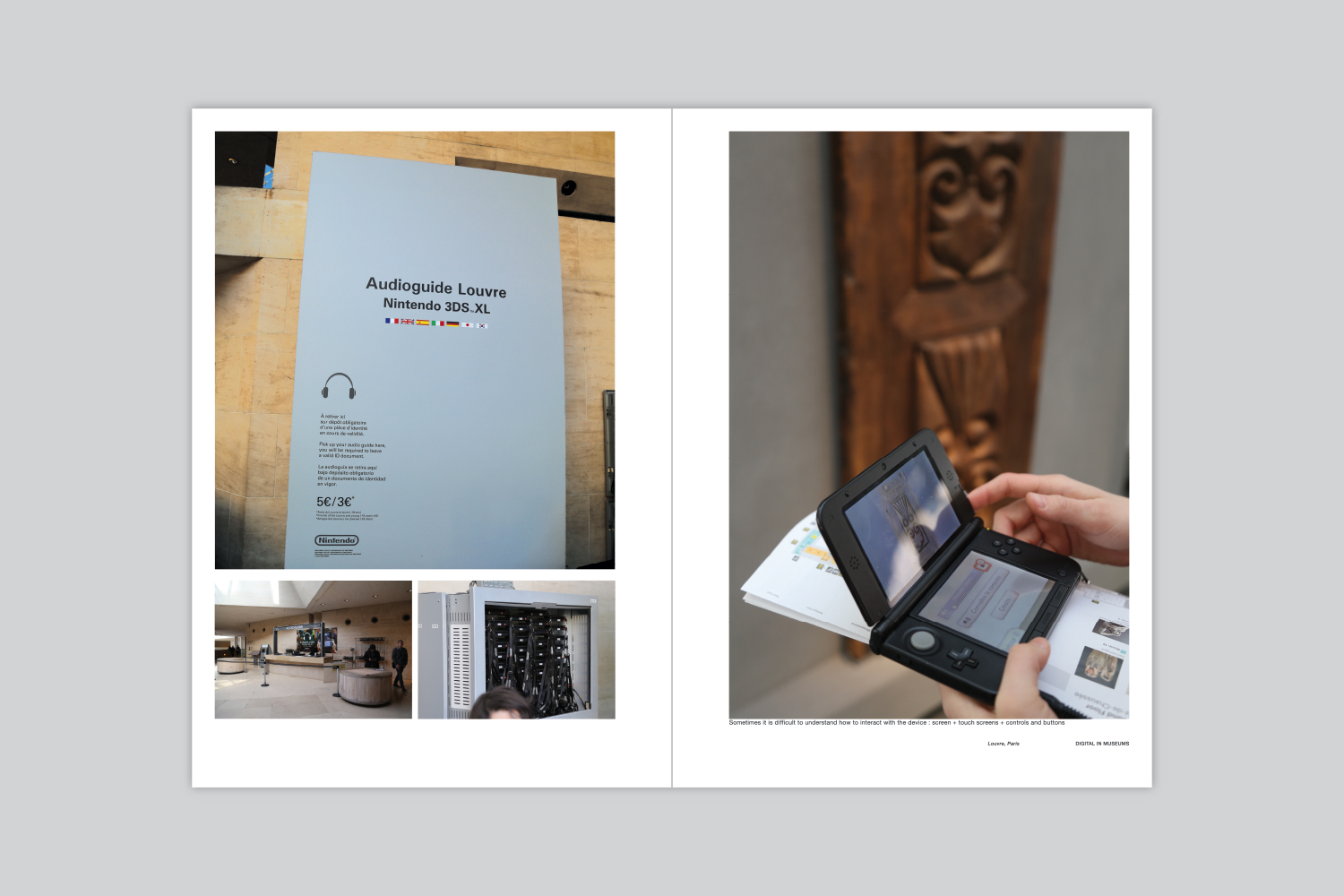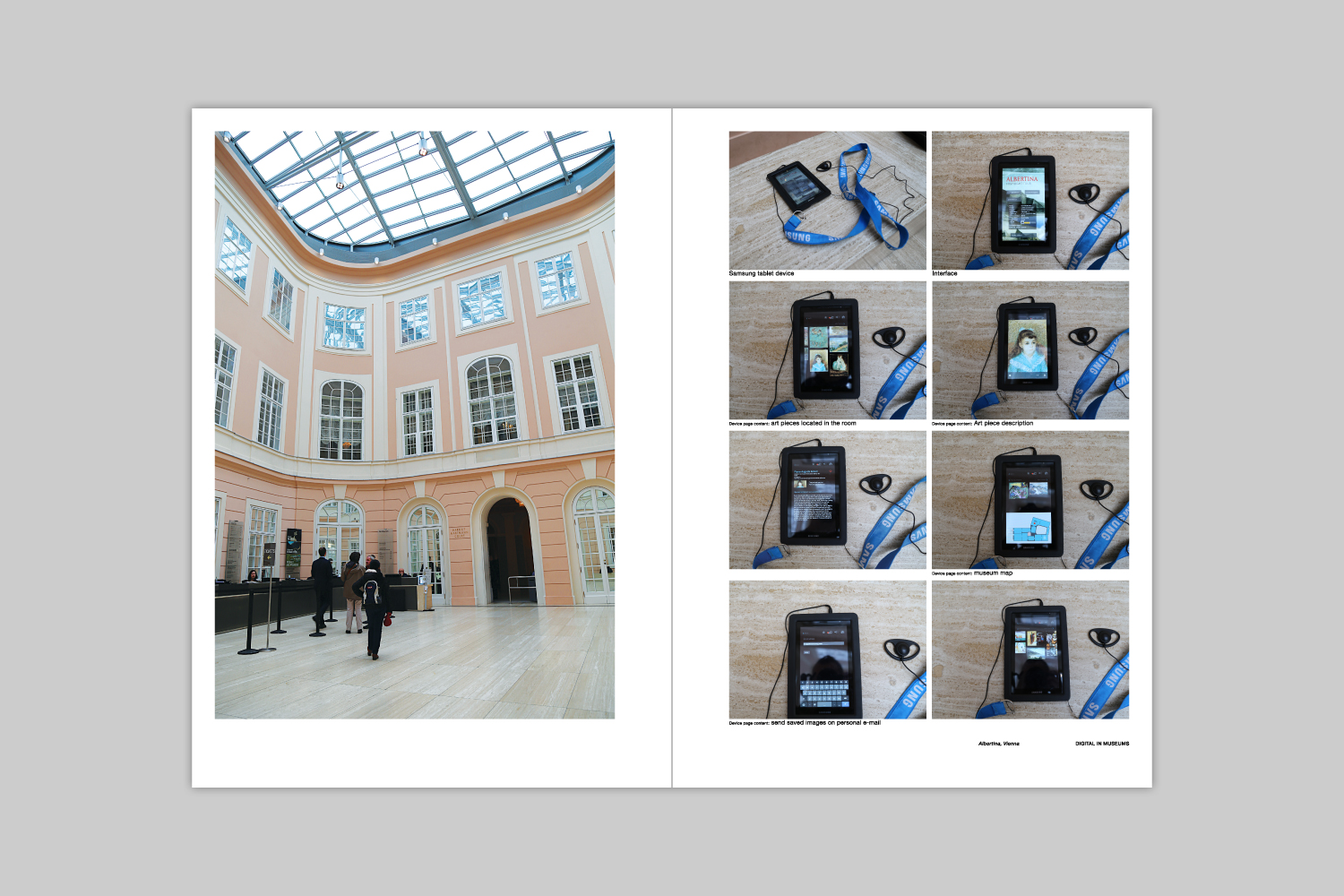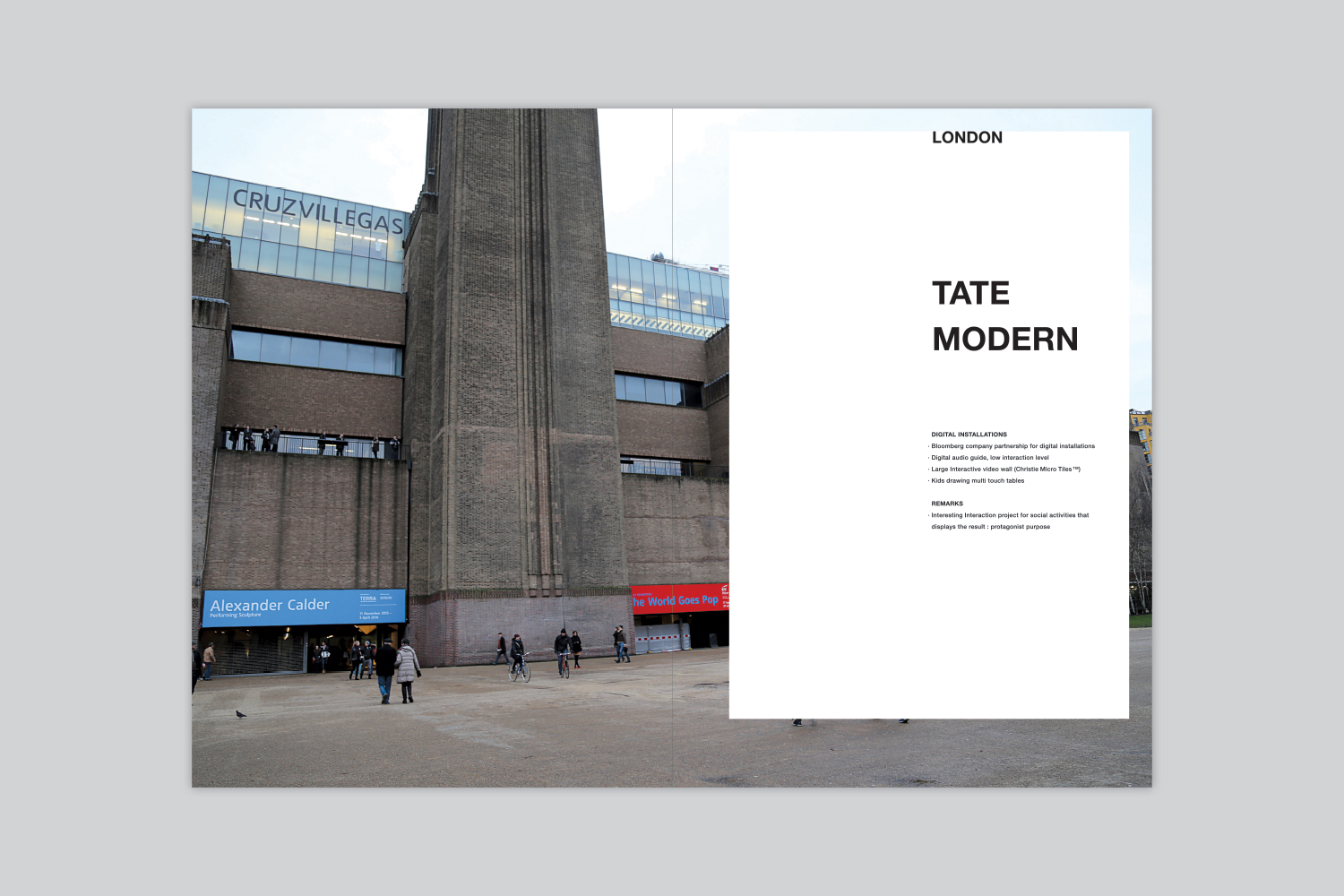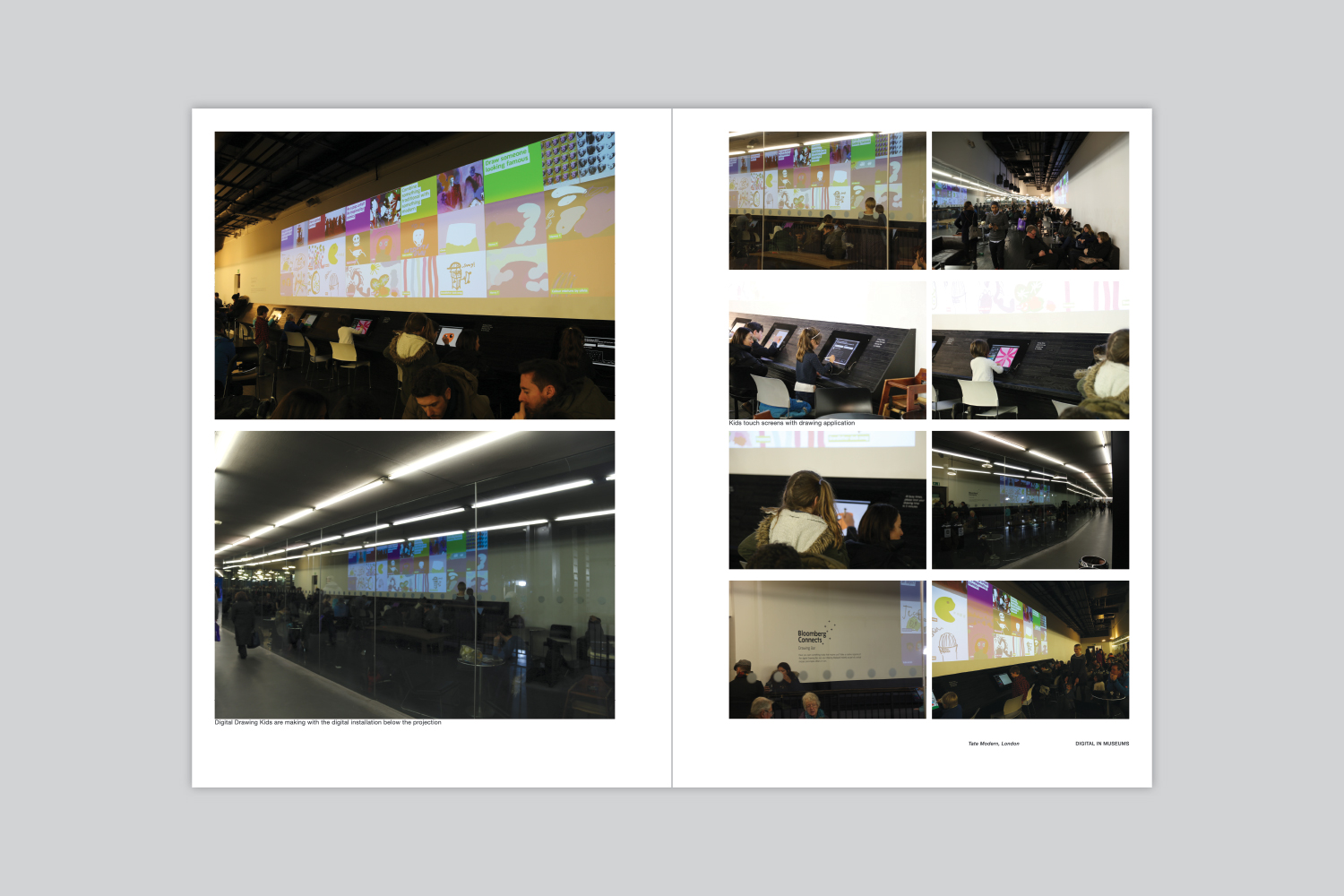 Research developed at EPFL+ECAL Lab